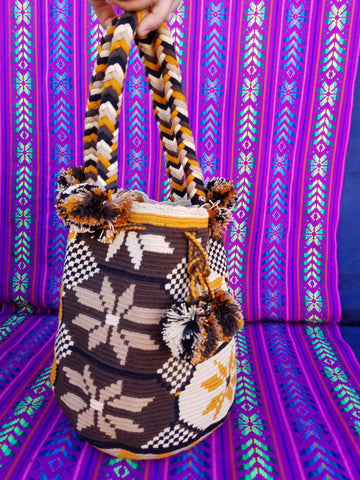 Tribal Hand Woven Vegan Bucket Bag - Mereth
These Tribal Bags are hand woven and can take approximately 10 to 20 days to weave.  Handmade in South America by the indigenous people.  
Shoulder bag. approximately 9"L x 8.5"W x 10"H; two 8 inch straps.  Please note: Measurements are approximates. 
Type: Bucket Bag, Cotton Drawstring tie enclosure with tassels. 
Your purchase supports these indigenous tribes as well as the artisans and artist that design these products.  All of our products are vegan, fair trade and eco-friendly ~ Good for Mother Earth and for the people that wear them. 
Kuna Prints Designs are "Unique as your finger prints" ~ all of our products are ONE of a KIND ~ no two are the same so you truly are purchasing a work of art that will not be found anywhere else in the world and it's as unique as YOU are!
How to take care of your wearable art:
You may hand wash it with soap and water and air dry.
For any questions regarding your product contact us at 877-586-2263 Enjoy! 
---
We Also Recommend
---