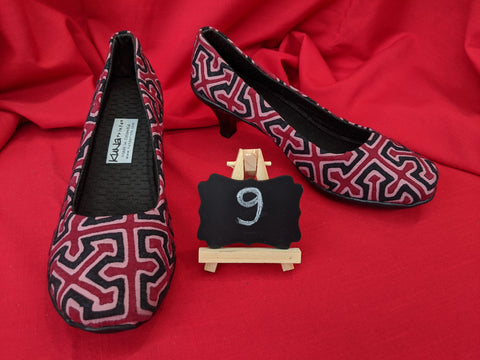 Pump Kitten Heel Mola Shoes - Size 9 - Carling
Pump Kitten Heel Mola Shoes Tribal Textile by Kuna Prints
These beautiful tribal wearable art creations have been hand crafted by the Kuna Indians of both Panama and Colombia. Molas are created by using a hand sewn technique called reverse applique making a hidden stitch to the folded cotton fabric designs.  The shoes are made by Colombian artisans applying these intricate and unique ethnic textiles called molas hence the name Kuna Prints Mola Shoes.  Your purchase supports these indigenous tribes as well as the artisans and artist that design these products.  All of our products are vegan, fair trade and eco-friendly ~ Good for Mother Earth and for the people that wear them. Our soles are made out of a bio-degradable mix of rice husks and rubber plant.
Kuna Prints Mola Shoes "Unique as your finger prints" ~ all of our products are ONE of a KIND ~ no two are the same so you truly are purchasing a work of art that will not be found anywhere else in the world and it's as unique as YOU are!
How to take care of your wearable art:
You may hand wash your shoes with soap and water and air dry.
For any questions regarding your product contact us at 877-586-2263 Enjoy!
---
We Also Recommend
---